Today I was reminded of a wonderful book called Chasing Daylight: How My Forthcoming Death Transformed My Life by Eugene O'Kelly.
What prompted this memory was a compelling essay I read – How Doctors Die, about end-of-life care and intrusive/invasive interventions that can take place in terminal cases. Choosing how to die, in the case of many doctors, seems to frequently include opting out of much medical care, and allowing nature to take its course.
This resonated with the moving tone and expression in Chasing Daylight, where Eugene O'Kelly, given 3 months to live,  has a profound realisation of how little time he has spent, for example, having lunch with his wife, seeing and relishing close friends and family, and allowing himself pleasure in peace, self-reflection and contemplation.  Even though he loved his life as it was. He sets about rectifying these omissions in his remaining months, using the time to rejoice in simply living.
Being busy and relentlessly doing is one of the scourges of modern fast-paced life, and it's also a recipe for ill-health, physical and mental. Constantly pushing forward with no space or time to contemplate, reflect, relax and re-ignite depletes our inner resources, leaving us fraught and exhausted.
At this time of year, it's especially easy to get caught up in the seasonal flurry of frenzied activity, yet the holidays can provide an ideal time for stepping back and considering how we are living our lives, and valuing ourselves and those around us.
That's why transformation through retreat, in order to advance, finding inspiration and perfect moments in Nature and beauty can ease the pressures and allow recuperation (a regathering and increase of strengths and assets) and is one of the prime aims of our offerings here at Pessel Centre for Global Transformation.
Here is a brief review of Chasing Daylight, written several years ago, and even more relevant and urgent as a reminder in these hectic times of chaos and confusion.
"A potentially life-changing book which emerged from the author's experience of facing his imminent death head-on, the same way he had lived his life, creating space to appreciate the fragile impermanence of human existence.

'I was blessed. I was told I had three months to live. You think that to put those two sentences back to back, I must be joking. Or crazy. Perhaps that I lived a miserable, unfulfilled life, and the sooner it was done, the better. Hardly. I loved my life….'

As CEO and chairman of KPMG, the $4 billion (£2.32 billion), 20,000-employee, century-plus-old partnership, one of America's Big Four accounting firms, Eugene O'Kelly's life changed abruptly when he was told he had terminal brain cancer and given three months to live.

This is a beautiful, poignant and inspiring book written in the space between the diagnosis and O'Kelly's death three and a half months later. Given the gift of self-awareness with this sudden realisation of mortality, he applied the meticulous organisational skills he had used throughout his working life to create 'Perfect Moments', and spend meaningful time with those who had been important in his life, learning to pause, reflect and appreciate each passing day, hour, and minute for the fleeting beauty it holds. In his words:

'Perhaps I could have found time, in the last decade, to have had a weekday lunch with my wife more than . . . twice? Where had I found the nerve to press so hard for our firm to rework its culture, encouraging our partners and employees to live more balanced lives, when my own was out of balance?….I experienced more Perfect Moments and Perfect Days in two weeks than I had in the past five years.'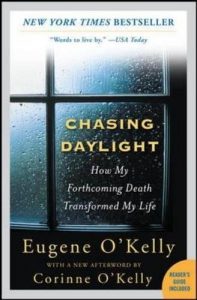 ISBN-10: 0077118472
ISBN-13: 978-0077118471
McGraw Hill Professional
You can find the book on Amazon – click the image.
© Christine Miller